Before YOU start to play we recommend that you read the information that appears below



Oriented to PVP (player versus player), but remember that SCUM is a unique game that favors the team that has the widest range of skills
Self-developed BOT with PREMIUM EXCLUSIVE FEATURES for a better gaming experience integrated with our DISCORD Community Server

Server with 70 player slots

Focused on PVP, PVE play allowed (PVP / PVE)

Loot and vehicles to the maximun

Server Restarts (warnings on the server 5 minutes before):

09:00h UTC

13:00h UTC

17:00h UTC

21:00h UTC

Custom daytime and night cycles

Active administrators, are here to assist, to answer questions and, to maintain the server

Incentives to our donors and supporters
The server rules are simple, don't be a jerk that you won't have trouble playing with us!
There are 4 types of punishments to violations of the rules below:
warning, in-game mute, penalty-fee and ban

In case of rule violation, the admins will take the appropriate measures and punishments might not necessarily follow the order above.

Do not use cheats, glitches, exploits, duplication, and bugs for any thing that gives you an advantage in the game or that ruin other players experiences. 

No use traps, bombs, mines or blueprints within bunker or military zone boundries.

It is forbidden to place flags OR store loot on roofs or unreachable places, whether that is on top of buildings (e.g., lighthouse), floating in the air, or through some other glitch that prevents any other player who's not in your squad to reach it through normal means of the game. You may protect your flag with walls, locks, sandbags, etc., as you see fit, but they must be reachable by another team if they successfully raid your base.

It is forbidden to use events (DM, CtF, etc.) as a means to attack or protect bases, (whether they belong to you or not).


VPN or TOR connections are not allowed.
Do not advertise other servers, no self-promotion, soliciting, or advertising in discussion, general, or looking for group rooms.

No harassment of other players. Racism, sexism, xenophobia, transphobia, homophobia, misogyny, etc. are never allowed. In-game banter is allowed, but you may be punished if an admin considers your behavior toxic.

No politics. Talking about serious issues involving government officials, political parties, religions, or geo-political disagreements is not allowed. Even if these topics are approached in a civil manner, this is not the correct space for these conversations.

Keep personal drama out of chat. Harassment in chat or direct messages is never allowed regardless of how you feel about others.

Do not disseminate false information about the server, impersonate an admin or disrespect the admins. They are here to ensure the game is clean and that everybody is having fun.

We do not allow public hackusations. If you have something to report, message an admin directly on discord.

Other types of abuse not listed here may also be considered worthy of warning, kick, or ban, at the admins discretion.

Alleging lack of knowledge of this rules will not prevent you and your team from the appropriate punishment.
On our server you will find a self-developed bot.
This bot works integrated with our DISCORD server and allows SCUMGAME players to get a better gaming experience. Enabling additional functionalities external to the game.
The main features are:
 TRADING, PVP MAP and RANKING
Before starting to play you should register in BOT system to be able to make use of all the features the server offers. 
To register you must ask for the welcome pack, in this way your bank account will be created and you will get fame points and equipment to start with. It will only be provided once per player. Go to #welcomepack channel on Discord for more information.
On our store you can buy ingame items using BOT coins. We have a catalog of products and in each one you will see the command necessary to request it.
When you order the product, you will receive a code that you can redeem in-game. BOT will deliver it to you as soon as possible. 
You can earn coins in this ways
Players earn 5 coins for every 15 minutes they play on the server. Coins will be counted when exiting the server.
You can access your server coin account by typing in the COMMANDS channel:
Yout will receive a message similar to this

The ACCOUNT ID identifies your account in the bank, this number will change when you become a new character or server is wiped.
Each kill will earn you 40 coins.
Killing the current top killers will earn you more:
80 coins for killing TOP 1
70 coins for killing TOP 2
60 coins for killing TOP 3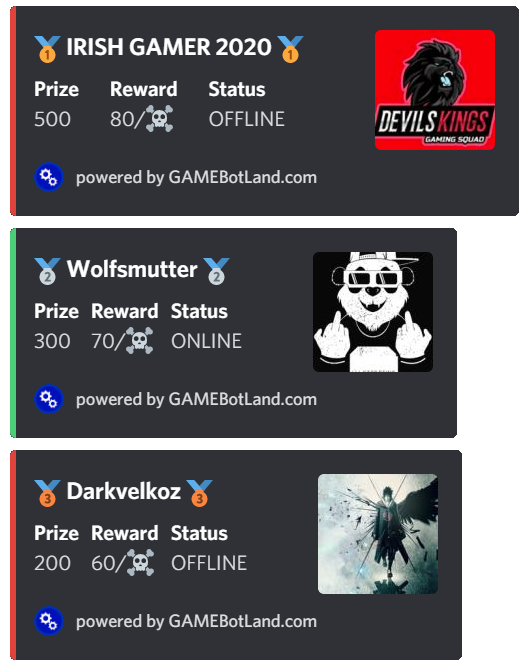 If you find ingame bills and BCUs, save them, you can exchange them for coins from the bank. It is important to keep them all in a backpack and to notify an administrator in the evenings.
To request the change, 1000 bills must be accumulated which will be exchanged for 500 coins or 500 famepoints.
Each BCU will be exchanged for 50 coins. You can get a maximum of 1000 coins per week.

More info at #admin-trade channel.
The players who ends the week in the top 3 ranking will receive the corresponding amount of coins automatically and pass to Hall of Fame.
TOP 1 earn 500 coins
TOP 2 earn 300 coins
TOP 3 earn 200 coins
You can do or receive transfer of coins.
First you need to know ACCOUNT ID of the player that you want to send coins. 
This information appears with the command
You will receive a message like this
To transfer coins you can use command !𝗽𝗮𝘆
on the COMMANDS channel, indicating as parameters the ACCOUNT ID and the number of coins to be transferred.
Donations are important to keep the server alive, a server cost monthly fees, your support is appreciated.
Visit DONATION channel on DISCORD or use command
You will receive a message with all options to get those donor's benefits.

In minutes you will automatically receive your donor gift.


All BOT commands must be entered in the COMMANDS channel on DISCORD.
You can type !𝗵𝗲𝗹𝗽 to see a list of available commands
Every time a player dies on the server, the BOT publishes a map of the place where the fight occurred and sends an in-game message informing who the killer was, the victim, the sector, weapon and the shooting distance. All information will be displayed on KILL-FEED channel.
Information is published with a 15 minutes delay
Will be located somewhere on the map. The location changes every 2 hours.
 The BOT will spawn special equipment sets at a random loot points, only one at a time. The location changes every 20-25 minutes.
All kills inside WARZONE give double coins.
Every 10 minutes RANKING CHANNEL is refreshed and show the Top 25 killers with detailed status for TOP 3 players.
The players who ends in the Top ranking will receive PRIZE coin value.
Every week on Monday at 0:00h UTC we reset the kill count.
On our discord you can see all global messages from in-game chat.
This channel displays all administrator commands for greater transparency.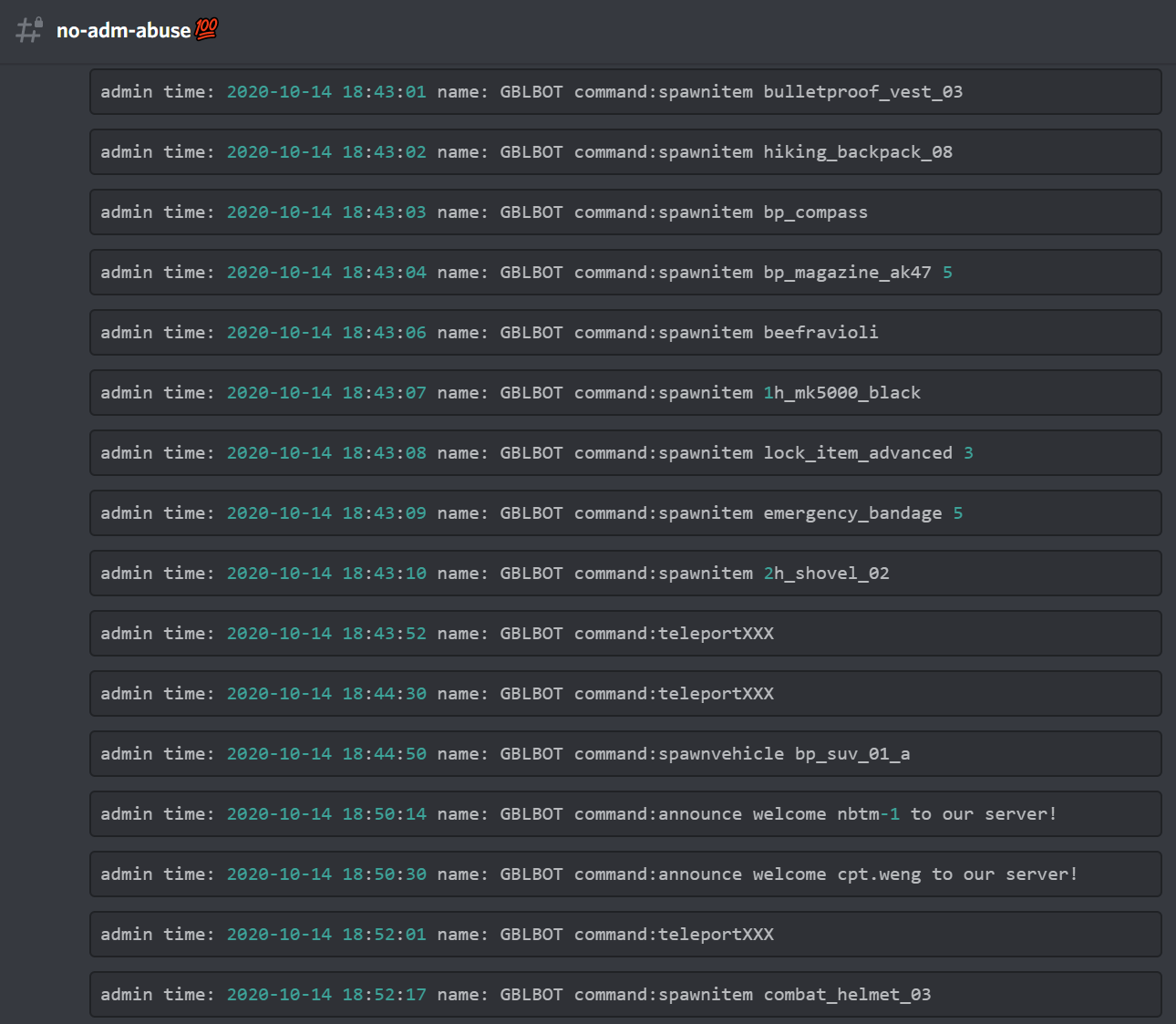 Every day we do several raffles on the server. To participate you just have to be registered and stay on the server. Raffles are special loot packages.
You can see the list of winners on the LOTTERY-WINNERS channel
Once you have claimed the welcome pack, you can use our invitation system. Go to the COMMANDS channel on DISCORD and type

You will receive a message like this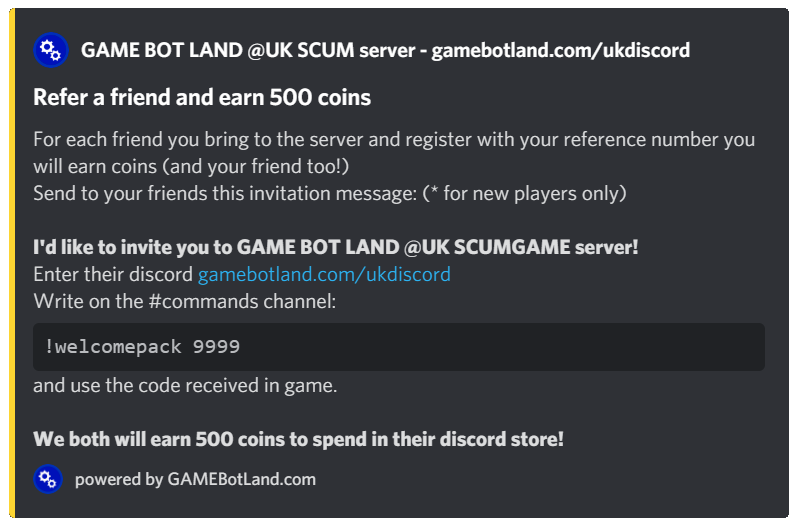 Instead of the value 9999, your ACCOUNT ID number will appear. Share your code with your friends and you will both earn 500 coins.
Your friend must not be registered yet and must paste the command that you sent him on the COMMANDS channel and use received code in game.